Naples FL, Does Your Home Need Radon Mitigation?
Or, Radon Testing?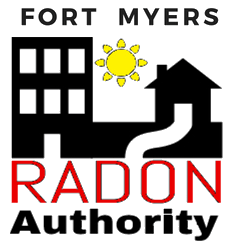 NAPLES FL RADON MITIGATION, MITIGATION SYSTEMS, TESTING AND TEST INSPECTION
RADON in homes, have been found throughout Naples, FL. According to Florida Health, elevated radon levels effects one in five Florida homes. As a matter of fact, the only way to know if your home has elevated radon, is to test. If radon levels are high, radon mitigation will be needed. When our clients ask and want to know how to get rid of radon, we ask them several questions regarding the structure of their building. Many aspects of the home will influence our radon mitigation system design. It is important to know that It is illegal to measure/test or mitigate radon without Florida certification in the state of Florida.
Radon levels in Naples, FL Collier County Florida Radon Data by Zip Code
As indicated in this map of Florida, Naples, Collier County, indicates radon is clearly an issue to be of concern. This FL Health Map highlights counties in red, the percentage of residences at 4pCi/L or above. A great amount of Naples and Collier county indicate these higher levels.
What does PicoCuries mean?
Radon levels are measured using picoCuries. When a building is tested for radon, the picoCuries indicate the level of radon in the building at the time an air sample has been measured. EPA and Florida Health guidlines suggest no radon level is safe; Buildins at or above 4pCi/l should be mitigated.
Naples, FL Zip Codes
34102 34103 34104 34105 34108 34109 34110 34112 34113 34114 34116 34117 34119 34120.